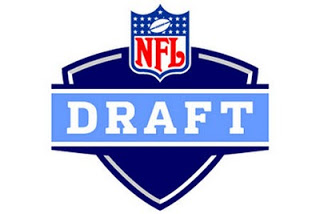 With the 2010 NFL Draft just under a month away, and plenty of aspiring NFL athletes working out at their respective schools for their pro days, I felt it was an appropriate time to look back at our previous mock drafts, and compile a new draft board. Thanks to the workout performances of Tim Tebow and the the pending performance by Sam Bradford this board is once again likely to change.
1) St Louis Rams: Sam Bradford
QB: Bradford's Pro-Day will tell the tail of the tape on this one. There are still questions about his shoulder, and his ability to make the switch into a traditional scheme.
2) Detroit Lions: Ndamukung Suh DT:
The big man is too good to pass on. On s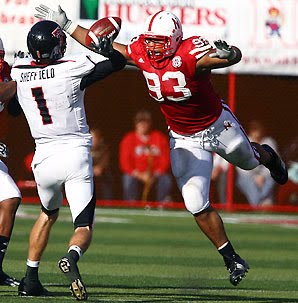 ome of the big draft boards, McCoy is starting to jump Suh, but not here. There's simply too much upside to be had.
3) Tampa Bay Buccaneers: Gerald McCoy DT:
McCoy is the key to rebuilding the once great Tampa Bay defense. He has the size to fight against the run, and the speed to get up field and rush the passer.
4) Washington Redskins: Russel Okung OL:
After reading and talking with some sources close to the Redskins, there is no doubt that head coach Mike Shanahan wants to bring in a quarterback he can groom to be his own. However, unless Bradford falls, there's not a quarterback worthy of blowing the fourth pick on. Look for the Skins to make a move in the second round.
5) Kansas City Chiefs- Eric Be
rry S:
The Chiefs can go in a lot of directions with this pick. An offensive tackle would be a great pickup. However, the safety out of Tennessee is too good pass on. GM Scott Pioli believes in taking the best available talent and there is no doubt that is Eric Bery.
6) Seattle Seahawks- Bryan Bulaga OL:
Much like the Redskins, the Seahawks would like to take a quarterback with this pick, but unless they were completely blown away by Tim Tebows workout last week, that's simply not going to happen. Bryan Bulaga is a reliable and strong offensive linemen that will finally plug the holes when Seattle lost everyone a few years ago.
7) Cleveland Browns- Joe Haden CB:
Suddenly the AFC North is the new home for high flying passing attacks upgrades to Cincinnati, and Baltimore means teams are going to look to put the ball in the air. The Browns needs to upgrade their secondary. Joe Haden ran slowly at the combine, but his game speed is perfect.
8) Oakland Raiders- Bruce Campbell OL:
The offensive lineman is a workout freak, and he's exactly the type of guy that Al Davis loves. This could be the big bust pick of the 2010 NFL Draft.
9) Buffalo Bills- Jimmy Clausen QB:
The Bills need a quarterback and Chan Gailey has shown a liking for the Notre Dame product. I'm not sure so Bills fans are so crazy about Clausen however.
10) Jacksonville Jaguars- Derrick Morgan DE:
Yes the Jags signed Aaron Kampman during free agency but they still need an upgrade in on their defensive line.
11) Denver Broncos- Rolando McLain LB:
As the free agency drags on, it looks highly unlikely that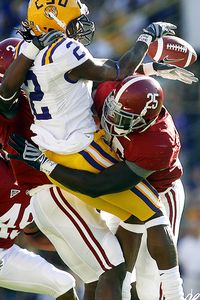 Brandon Marshall is on the move, combine that with more disturbing stories about Dez Bryant and you can bet that the Broncos don't want another diva receiver on the roster. Bringing in Rolando McLain gives them an instant upgrade and a rock to play the inside linebacker position.
12) Miami Dolphins-
Sergio Garcia LB:
Sure Dan Williams makes sense for this pick, but look who is making the pick. Bill Parcells has drafted DeMarcus Ware, Lawrence Taylor, and Carl Backs. He likes aggressive outside linebackers who can rush the passer.
13) San Francisco 49'ers-
Trent Williams OL:
It's difficult to tell what San Francisco will do here, especially after they parted ways with their GM. They desperately need a quarterback, but I don't think they will take one here.
14) Seattle Seahawks-C.J. Spiller RB:
He is the exact type of back that head coach Pete Carroll likes to have. Spiller is versatile and can be used in a variety of ways.
15) New York Giants- Sean Weatherspoon LB:
The more I see this guy, the more I like him. He has flown up my draft charts, and he can make an instant impact to rebuild the Giants linebacking core.
16) Tennessee Titians- Jason Pierre-Paul DE:
Originally I pegged Dan Williams for this pick however with Kyle Vanden Bosch gone due to free agency, the Titens need to find a new pass rusher on the edge.
17) San Francisco 49'ers-
Taylor Mays S:
Mays opened a lot of eyes with is performance at the combine. We all knew he was big and physical but what impressed people the most was his lateral movement and his ability to make plays on the ball while it was in the air.
18) Pittsburgh Steelers- Kyle Wilson CB:
I love the way this kid plays on tape. He is a bit undersized but he knows how to play the game, and he knows how to read the quarterback. He will be an instant upgrade for the Steelers shaky secondary.
19) Atlanta Falcons- Everson Griffen DE:
The Falcon need an upgrade on their defensive line. They struggled to mount a consistent pass rush all season, Griffen will give them some teeth on the line.
20) Houston Texans- Dan Williams DT:
The Texans would love to get a defensive back with this pick, but if Williams somehow slips this far, there is no way they pass on the big man.
21) Cincinnati Bengals
-
Golden Tate WR:
Sure they brought in Antonio Bryant but they can afford Tate at this pick. The Bengals need another receiver who can compliment Chad Ochocinco.
22) New England Patriots-
Brandon Graham LB:
A smart speedy outside linebacker who can play in a 3-4 or a 4-3. Brandon Graham is the exact type of player the Patriots love to have on defense. There is a chance that Jared Odrick could sneak into this spot.
23) Green Bay Packers- Maurkice Pouncey G/C:
He has first day talent and he can start almost right away. The Packers OLine played better as the year progressed but they still need a lot of help.
24) Philadelphia Eagles-Mike Iupati G/C:
Talk about finding an anchor. Iupati doesn't blow you away with numbers, but he is a lock. Iupati has the tools to be a long time performer in this league.
25) Baltimore Ravens-Jermain Gresham TE:
Sure he hasn't played football in a year, but with the injuries racking up on Todd Heap, it's time for the Ravens to move forward. Plus adding Gresham continues the trend of upgrading their passing game.
26) Arizona Cardinals- Jerry Hughes LB:
This guy just gets things done. He racked up sacks like nobodies business while down in Fort Worth. Consider him an instant upgrade and added explosion to the Cardinals pass rush.
27) Dallas Cowboys-Ear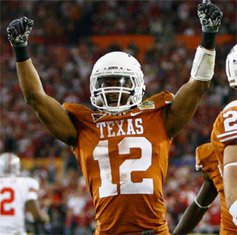 l Thomas DB:
Granted the last time the Cowboys brought in a kid from Texas to play in the secondary it didn't work out well. However Earl Thomas is better than Roy Williams. The Cowboys could use a versatile safety.
28) San Diego Chargers- Ryan Mathews DB:
Another corner who is talented and knows how to read quarterbacks. He can cover space and knows how to jump routs.
29) New York Jets- Dez Bryant WR:
You know Rex Ryan wants to go defense, but Dez Bryant is too good a talent to pass up this late in the round.
30) Minnesota Vikings- Brian Price DT:
With big Dan Williams getting up there in age, it is time the Vikes begin to look for his replacement. Price is a big body and a disruptive force in the middle. His presence could actually prolong that of Dan Williams.
31) Indianapolis Colts-Devin McCourty CB:
The Colts were hoping to find Jeff Saturday's replacement in this spot, but the teams ahead of them have taken a big liking to Maurkice Pounty. In Devin McCourty they get a corner who's draft stock is quickly rising, and he fills a need in the secondary.
32) New Orleans Saints- Terrence Cody DT:
Sure he is massive to the point that his weight may actually be an issue. But he can be a great anchor on any NFL roster.