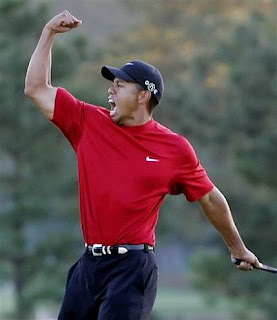 After weeks of speculation we finally have an answer, to the question of, when will Tiger Woods return to the golf course? The speculation has been in high gear for the past two weeks since the Woods press conference, and now we have the answer. Woods will take the course in his first official tournament since the sex scandal broke, at the 2010 Masters in Augusta Georgia.
"The Masters is where I won my first major and I view this tournament with great respect. After a long and necessary time away from the game, I feel like I'm ready to start my season at Augusta," Woods said in a statement.
"The major championships have always been a special focus in my career and, as a professional, I think Augusta is where I need to be, even though it's been a while since I last played."
"I have undergone almost two months of inpatient therapy and I am continuing my treatment. Although I'm returning to competition, I still have a lot of work to do in my personal life."
The original talk was Tiger Woods would make his return at Bay Hill in a few two weeks. However, after some of Woods people took a look at the facilities, they decided to pass on the tournament. The main reason was the lack of security available at Bay Hill. In Augusta, Woods will be protected by the powers to be at the Masters. Everyone knows how seriously the Masters takes itself and how particular they are at issuing tickets, and press credentials. By playing in this Major Tiger Woods is able to avoid the TMZ style reporting he would be subjected to at most PGA events. Simply put the board in Augusta will not allow their tournament to become a side circus.
In Augusta, Tiger is able to have things exactly how he likes them. They are under control and for the most part he is able to call the shots. This is good for Tiger he will be able to focus on playing golf and taking care of the job at hand. It is also good for the PGA because they can at least keep some of the focus on the game being played and not the side show that is Tiger's personal life.