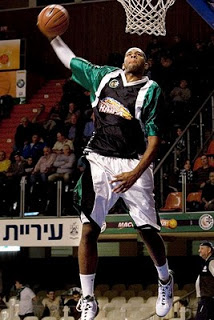 It was not that long ago when we
wrote about
Jeremy Tyler a high school basketball player out of California who was forgoing his senior year of high school to play basketball in Israel. Sure Brandon Jennings skipped college to go play pro ball in Europe and evade the NBA's rules on high school athletes, but Tyler was the first player to skip high school. While things are always clearer in retrospect it appears that Jeremy Tyler made the wrong move.
According to a press release yesterday, the 18 year old has left Jerusalem and returned home to San Diego California.
"Due to personal matters, Jeremy chose to leave the team on his own will on March 18 and return home to San Diego," Maccabi Haifa owner Jeffrey Rosen said in a statement. "We wish Jeremy all the best."
Tyler was only able to get on the court for 10 games for Haifa and he made little use of that time. The 6'11 power forward averaged 2.1 points, and 1.2 rebounds in just over 7 minutes of playing time a game. It is estimated that Tyler earned about $140,000 this season despite being unable to crack Haifa's starting lineup.
"I'm as surprised as you are. We had no idea he was coming home," Makhtar Ndiaye of the Wasserman Media Group told ESPN's Willie Weinbaum. "I'm speechless at this point and look forward to speaking with Jeremy. A contract, a learning process -- things weren't great -- but it was part of growing up. I'm disappointed and frustrated."
It was reported earlier last year that Tyler was struggling to make the transition to the pro game. His coaches and teammates routinely criticized his work and practice efforts. Last month he walked out during halftime of a game in protest of the lack of playing time he was receiving. His final three games with Haifa were spent at the end of the bench wearing street clothes as he was not selected to the roster.
Ndiaye said he spoke to Tyler earlier this week and "everything was cool."
"The kid decided on his own," Ndiaye said. "We did everything humanly possible to make it a success story for him and his family."
Sonny Vaccaro an adviser to Jeremy Tyler and his family insist the Israel experiment was not a negative one. He claims he spoke with NBA scouts who say any potential draft stock Tyler ma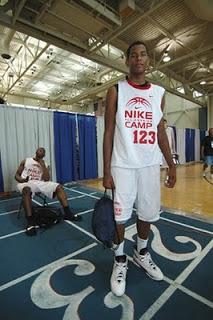 y have has not been affected.

Vaccaro went on to compare Tyler to Brandon Jennings who spent a year in Europe where he played in relative obscurity and maintained a low profile. Stating that Jennings was quiet while in Europe and now he is staring in the NBA.

Due to his age Jeremy Tyler is still ineligible to play in the NBA. Sources close to him say Tyler will sign another professional contract over the summer and gain some more experience under his belt.

Despite what scouts may have told family adviser Sonny Vaccaro one has to think, Tyler's actions are raising red flags to NBA teams. It's not that he has proven to be ineffective while playing, but his attitude and the way he has handled the entire situation. To walk out on a team and seemingly tell no one will leave a bad taste in many scouts mouth.