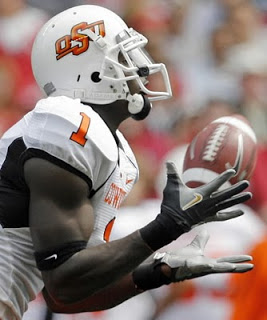 Yesterday at this time we were celebrating the efforts of Sam Bradford and his successful Pro Day Workout. Some said Bradford had the best workout since Troy Aikmen, he went 13-13 with his passes during warm ups, and only missed one of the 50 passes he threw during the workout, thus proving his shoulder is completely healed. He also proved he had great footwork which most of the scouts were pretty sure of to begin with.
However, today there was a different story being told in Lufkin Texas where former Oklahoma State receiver Dez Bryant took the field for one of the most anticipated pro days of the season. Bryant was declared ineligable to play for the majority of the 2009 season thanks to his dealings with Dion Sanders and his agent. When the 2010 NFL Combine came around, Dez Bryant chose not to participate in any drills citing a tweaked hamstring. Along with Bryant's lack of participation came allegations that Bryant had trouble attending meetings, and he was routinely late along with some other personal issues. None of this is good for a guy who has not played a down of football since early September.
However, despite all of these shortcomings, scouts still had faith in the talented receiver. The thought was if Dez Bryant could come out and perform well at his pro day it would put all the critiques to rest. For Dez Bryant, performing well meant, running crisp routes, showing he has good hands, and most importantly running a fast 40 yard dash time.
Early word out of Texas today is Dez Bryant failed to do that with his pro day performance. According to scouts Bryant ran a 4.57 second 40 yard dash. This is simply unacceptable. It is possible that a performance of this nature has dropped Dez Bryant out of the top 15 of the draft, and perhaps out of the first round.