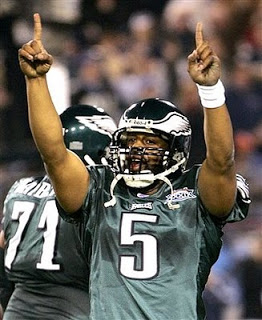 Unbelievable news on a Easter Sunday. The Philadelphia Eagles have traded franchise quarterback Donovan McNabb to the Washington Redskins. This news comes from Foxsports.com NFL insider Jay Glazer.
The terms of the deal are for the Eagles to receive a second-round pick, 37th overall, in this month's NFL draft, and either a third- or fourth-round pick next year.
McNabb is the Eagles franchise leader in every major passing statistic. He also lead the Eagles to four NFC Championships, and one Super Bowl appearance. In addition he made six Pro Bowls while quarterbacking Philadelphia for 11 seasons.
This move cements the fact that Washington Redskins quarterback Jason Campbell will be traded or moved sooner than later. Campbell's status with the Redskins has been in question for the last year. The Redskins only gave him a tender offer good for one season earlier this year. Despite the fact that McNabb is in the final year of his contract one would imagine the Redskins would make every effort possible to sign him to a long term deal.
An interesting twist in all of this is the Eagles were willing to let go of a franchise quarterback for virtually nothing. They were also willing to give their quarterback to a division foe who the Eagles will play twice a year. With Kevin Kolb the heir to the McNabb throne, and Mike Vick waiting in the wings, this very well could be one of the worse deals in NFL history.
From the Redskins perspective they gain McNabb's services for at least one season. However, he will be 34 next season and it is no secret that McNabb does struggle to stay healthy for the entire season. In regards to what it cost to sign McNabb by Redskin standards he was very cheap. They have never cared about draft picks anyways.
One thing that is for sure, the NFC will be one wild division next season, that is for sure.