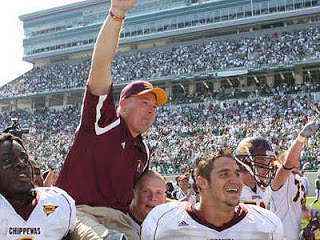 According to ESPN's Joe Schad, the Cincinnati Bearcats have wasted no time in finding a replacement for coach Brian Kelly. Cincinnati is returning to familiar hunting ground and hiring Central Michigan head coach Butch Jones. The Bearcats hired Brian Kelly from Central Michigan back in 2006.
Butch Jones has been the Chippewas coach for the past three seasons and has racked up a 26-13 record. This season the Chippewas are 11-2 and on their way to the GMAC Bowl.
One interesting situation that has come in the wake of this hiring is who will coach the Bearcats in the Sugar Bowl? Butch Jones has not made a decision as to who he will coach in a Bowl game. Central Michigan plays in the GMAC Bowl on January 6, while the Bearcats have a date with Florida on January 1.
Currently Cincinnati is being coached by offensive coordinator Jeff Quinn who took over when Brian Kelly bolted for Notre Dame last week. Quinn had hopes of landing the head job at Cincinnati, but those dreams have been dashed.
Much like his predecessor, Jones is an offensive guru. He worked under Brian Kelly at Central Michigan. He was also an assistant under Rich Rodriguez at West Virginia from 2005-2006. While there Jones helped to shape one of the great high powered spread attacks in college football history.
There will be plenty of talent at Jones' disposal when he gets to Cincinnati. The Bearcats are returning the bulk of their talent on offense including quarterback Zach Collaros who stepped in this season when Pike went down with a wrist injury.
Butch Jones is being given the keys to a Mercedes with the Cincinnati Bearcats high powered offense, now it's just the question of can he handle it all. The first task at hand will be to gain the players trust. Many of the Bearcats players were angry with Brian Kelly's choice to leave for Notre Dame and they felt betrayed. If Jones can win over the players, he has all the pieces in place for a happy stay in Cincinnati.