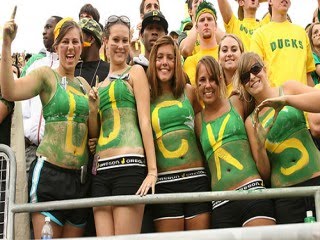 It's the Granddaddy of them all. The Rose Bowl, Big 10 and Pac 10, the massive parade, everything you could ever want in a football game, except for the excitement, at least for the past few years that has been the case. USC has won the last three Rose Bowls and to say they did it in convincing fashion would be an understatement. Enter Ohio State and Oregon. Two fresh faces and both teams have plenty to prove.
The Ohio State Buckeyes have overcome plenty this season. The last time they played a Pac 10 team it looked like the Buckeyes were outmatched and were in no position to contend for a Big 10 title, or even think about reaching the Rose Bowl. It's amazing what a few weeks can do, along with a few key losses for conference foes.
At times the Buckeyes have been an impressive team that appears to ready to turn the corner and become a true national contender. In order for Ohio State to do that they must have exception games from quarterback Tyrelle Pryor. He is the key to the Buckeyes offense. However, if the Buckeyes want to be successful they need Pryor to do more than simple play an effective game as a quarterback. He must be dynamic. For the bulk of his career in Columbus Pryor has tried to convert himself into a pocket passer, but the Ohio State offense is at its best when their quarterback is a duel threat with both his arm and his legs.
It's hard to believe that Ohio State has not been to a Rose Bowl since 1996, but they have played in 5 consecutive BCS games, and frankly have little to show for their experiences.
The Oregon Ducks have been on a seemingly magical journey this season. They began the season and were embarrassed by Boise State. Then things really got back when LaGarrette Blount punched a Boise State player during a post game altercation. After that the Ducks went underground for a few weeks. What happened during that period is Chip Kelly's teams gathered one of the deepest and best rushing attacks in college football. By the time Blount returned to the lineup redshirt freshmen LaMichael James had stepped in and gave the Ducks a new dimension with his explosive running style. Now Oregon has a thunder and lightning combo in their backfield. To make matters even more interesting, Oregon also has Jeremiah Masoli who has accounted for over 600 yards on the ground himself as a quarterback.
This game features Oregon's 6th ranked rushing offense against Ohio States 5th ranked defense, you have to love it when things come together like this. The spread is sitting at 3.5 points and favors Oregon. The key will be can the undersized Oregon defense stop what has been an inconsistent Ohio State offense.
Winner: I love my Ducks Take Oregon to win the game and cover the 3.5