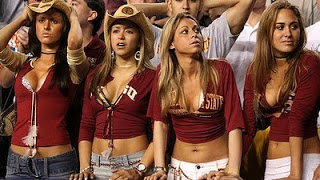 New Year's day means hangovers and football, both of which can be fun if done correctly.


Outback Bowl-Northwestern vs. Auburn:
It has been a 12 year wait but the Northwestern Wildcats are back in a bowl game for this first time since 1997. The Wildcats are one of the hottest teams in country right now, winning six of their final eight games, including a three game winning streak to complete the the season. Northwestern will need to remain hot if they want to change recent history. Northwestern has not won a bowl game in 60 years, and knocking off Auburn will not be easy.

Auburn has been a surprising team to watch this season. They experienced no drop off in play in adjusting to their no head coach. Even their 7-5 record is a bit misleading. Three of their loses came by seven points or fewer. This game to signify the end of an era as many of Auburn's best players will be moving on due to graduation. You can believe they will give this game their all in an attempt to go out on a high note.

The spread for this game is sitting at 7 points and favoring Auburn. While I love what is taking place up at Northwestern, it is still hard to picture the Wildcats as a New Year's day bowl team. Auburn is a very good team and they will be ready for whatever the Wildcats throw at them.


Winner: Auburn wins the game and covers the 7 points.




Gator Bowl-West Virginia vs. Florida State:
Frankly I don't even care what West Virginia does, or who they decide to suit up. The 2010 Gator Bowl is all about Florida State and more importantly one of the all time greats in college football, Bobby Bowden. It was announced earlier this month that Bowden would coach his last game as Florida States head coach in the Gator Bowl. In many ways the unthinkable is about to happen. The 2009 season started with a lot of promise for the 'Noles but much like the past few years, things simply fell apart for Florida State. They failed to do anything impressive on the field and finished the season with a 6-6 record. They should not be playing in the Gator Bowl, but because of the special circumstances, the Gator Bowl committee and the ACC made an exception to the rule.

The spread is sitting at 3 points and is favoring West Virginia by 3 points. I'm saying throw that out the door. Everyone in Seminole nation is making the trip to Jacksonville to see Bobby Bowden off. The Seminoles will be fired up, and ready to prove a point. You can rest assured that Bobby Bowden does not want his lasting image to be a thumping at the hands of the Florida Gators.



Winner: Florida State comes through and wins one for Bowden sending him out on the right note.

Capital One Bowl-Penn State vs. LSU:
The biggest non-BCS game without a doubt. Both teams are ranked in the top 15 and both teams have plenty left in the tank and want to prove a point. Many thought Penn State would win the Big 10 and perhaps challenge for the National Title, but home loses in conference to Ohio State and Iowa knocked the Nittany Lions down to the Capital One Bowl. The it factor for this game will be Penn State Daryll Clark. He is the Big 10 co-MVP and he can transform a game with his arm or his legs if he needs to.


Typically Les Miles and the Tigers are guided by their defense but that has not been the case this season. What was once a feared team now has holes in their game plan. Most recently the Tigers blew a 17-6 halftime lead against Arkansas and required some last minute heroics to secure the win. On the offensive side of the ball LSU is suffering from serious injuries in their backfield. RB's Charles Scott, Keiland Williams, and Richard Murphy are all out with injuries. This could spell serious trouble for the Tigers as they struggle to jump start their offense, against a very good Penn State team.

The spread for this game was favoring Penn State by 3 points but because of injuries many books have pulled the game. The injuries only help Penn State.

Winner: Penn State wins the game, and covers whatever spread you can find.