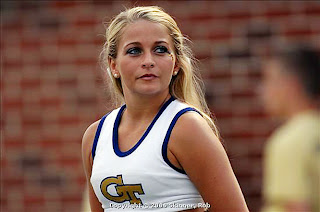 The 2009/10 college football season is nearly over, but there are a few games left on the schedule, and for Walker Sports there is one major game on tap for Tuesday night. Walker Sports originates in ACC country, so the Orange Bowl is a big deal to us. This year we are looking at Georgia Tech and Iowa squaring off in Miami for the game of a lifetime. Seriously, this could be the best BCS game.
This is your classic match up of high powered offense meets a stingy defense, and which ever team can impose their will on the other, will emerge victorious. The Yellow Jackets employ Paul Johnson's spread offense, while Iowa sticks to an old school 4-3 and they run it well.
In just two years at Georgia Tech Paul Johnson has transformed the program into an emerging national powerhouse. The key to the Yellow Jackets success is their tricked up option offense. Traditionally Paul Johnson likes to run a triple option attack, which is what he employed while coaching Navy. However, thanks to the athletes currently at his disposal, Paul Johnson has added a few wrinkles to his option attack that has it resembling a hybrid of sorts mixing the triple option and the spread option seen in Florida and at several other places.
Josh Nesbitt is the key to the Yellow Jackets offense. Like all option teams, the offense keys off the actions of their quarterback. Josh Nesbitt has adapted to running the option and there are few athletes who are as dangerous as he is when running it. Nesbitt is just 9 yards shy of gaining 1,000 yards rushing, which would give him 1,000 yards rushing and 1,000 yards passing. If he is able to find creases in the Iowa defense it opens the entire offense for the Yellow Jackets.
Trying to stop Josh Nesbitt and the Yellow Jackets is the 11th ranked Iowa Hawkeyes. Not only are the Hawkeyes a tough defense, they are great against the run. Their interior linemen are touch and clog up space. This is important because you have to stop the option offense fro the inside out. If those big boys up front can maintain their gaps and stay in their lanes, they will eat up plenty of space that the Yellow Jackets like to run in.
On offense, Iowa will receive a big boost with their quarterback Ricky Stanzi and running back Adam Robinson, both players have been out the past few weeks nursing injuries. Stanzi is a solid quarterback who we spoke about in the preseason because of the promise he held to become a breakout performer in 2009. Adam Robinson is a productive runner who averages 4.6 yards a carry. The Hawkeyes need both of these guys to be productive because at some point the Iowa offense needs to score points, and there is a chance this game could become a shootout.
The spread on this game is sitting at -5 points favoring Georgia Tech. That's a fair spread considering the two teams and where they have come from. One of the best ways to disrupt the option is to be prepared for it. Iowa has had over a month to get ready for the Yellow Jackets, and that is a huge help in slowing down Josh Nessbit. That being said, I simply think Georgia Tech has more and too many good athletes.
Winner: Georgia Tech wins the game and covers the spread.