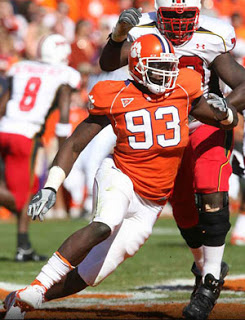 In a bit of tragic news, ESPN's Adam Schiefter is reporting that Chicago Bears defensive end Gaines Adams has passed away. Adams passed away after being taken to the emergency room last night in Greenville South Carolina. Adams was 26 years old.
An autopsy will be performed Sunday by the Anderson County forensic pathologist.
Gaines Adams was the #4 overall pick in the 2007 draft and went to the Tampa Bay Bucs. He also had a successful college career with the Clemson Tigers.
As always we will have more news as it comes in.