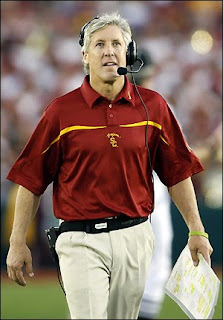 The Seattle Seahawks fired head coach Jim Mora Jr. earlier today in a shocking move. But who they have targeted for their next head coach has shaken up both the NFL and the College Coaching ranks. USC head coach Pete Carroll has been target by Seahawks and the man for the job. According to multiple sources Seattle wants Pete Carroll and they are ready to spend a lot of money to get him in as their new man.
According to Chris Mortonson at ESPN, the Seahawks could be ready to make a deal as early as mid week of next week. Seattle has already taken steps to get Carroll in. According to sources, they have already extended offers to minority candidates such as Leslie Frazier of the Minnesota Vikings. However, Frazier turned down the offer to interview citing that the Seahawks had already made up their mind on their next coach, and the offer was just a courtesy.
Pete Carroll has spent time in the NFL in past, and in four years he accumulated an above .500 record, contrary to popular belief. One hold out Pete Carroll has had about coaching in the NFL was he wanted to set up his own staff and have full control. With Seattle not having a GM, this presents the perfect opportunity should Carroll want to take advantage of it.
More news to comes details emerge.