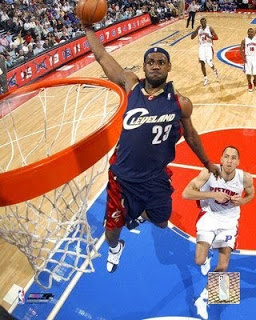 For the second time in less than a year, LeBron finds himself in a slam dunk controversy. For those of you who remember, it was this summer that Bron Bron found himself getting dunked on at a Nike camp pick up game. Now King James have found himself in a new bit of hot water. This time the controversy surrounds the upcoming 2010 NBA Slam Dunk contest.
For those of you who saw last years Slam Dunk contest, it was something special. Little man Nate Robinson walked away with the hardware for the second time in his career. However, the biggest news of the night came out when LeBron James, who was in attendance, announced to the world he would compete in the contest in 2010. Well the NBA released a list of participants for the 2010 contest in February, and guess who's name is nowhere to be found? LeBron James.
That's right, King James is a liar, he is not slated to compete in this year's slam dunk contest. But don't worry NBA fans, you still get to watch, defending champion Nate Robinson, along with; Eric Gordon, DeMar DeRozan, Shannon Brown, and Gerald Wallace.
Yeah this should be exciting....