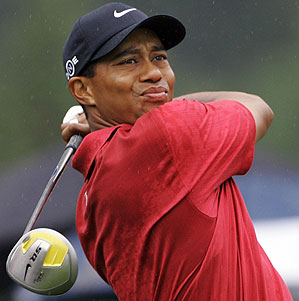 The World's no.1 golfer withdrew from the Players Championship at the TPC Sawgrass Sunday afternoon. Woods withdrew after his second shot on the seventh hole. The reason Tiger cited for withdrawing was a neck injury he has been battling for months.
"I've been playing through it,'' Woods said of pain he first felt before
the Masters
. "I can't play through it anymore.''
Woods was visibly upset when taking questions from reporters on Sunday in the clubhouse. He slammed his golf shoes to the ground while explaining why he withdrew. After taking a handful of questions, Woods stepped into the trainers trailer and received some treatment on his neck.
"I might have a bulging disk,'' he said.
A bulging disk in his neck would help to explain some of Woods erratic play as of late. However, what is more interesting is the fact that Woods allowed a strained neck to take him out of a tournament. The old Tiger Woods has battled through the flu, stomach flue, and he won the USA Open on one leg thanks to a torn ACL and other knee damage. Now he is allowing a possible bulging disk bring him to a halt. It just doesn't seem right.
We all know that Tiger Woods has gone through a lot since November. There is no way ones personal life can be in such disarray and not have it take a toll on you mentally and physically, and not change you. It is becoming apparent that Tiger is losing his focus. The distractions off the course are now affecting Woods on the course.
The next big moment will come this week when we find out if Tiger Woods will hold on to his no. 1 ranking or will Phil Mickelson pass him.