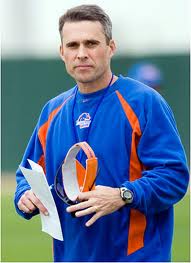 It finally happened. Some of us thought this day would never come, but Chris Petersen, has accepted a new job and will leave Boise State. Next week Chris Petersen will be calling the shots as the University of Washington's new head coach. The deal was signed late Thursday night.
A private flight from Seattle landed at the Boise Airport at 8:02 p.m. Thursday. The people on board immediately got into a black car headed to a Boise hotel, according to airport sources. Woodward and a woman returned to the plane 2 hours, 10 minutes later and left — without Petersen. The meeting lasted about 90 minutes.
Chris Petersen has been a hot commodity for the last five years. Ever since Boise State shocked the college football world by knocking off Oklahoma in the Fiesta Bowl, Petersen has been a hot topic. However, to his credit he stuck to his guns and remained in Boise where he was employed for the last 12 years.
Perhaps the biggest change occurred this year when the Broncos went 8-4 the worst in Petersen's tenure as head coach. Petersen would remain in high demand as long Boise was competitive, but as the team's record began to drop Petersen saw the handwriting on the wall.
For Huskie fans who were gutted on Monday when Steve Sarkisian left to go to USC, they have found an upgrade with Petersen coming to town. You can expect he will bring his open style and excitement to the Northwest.