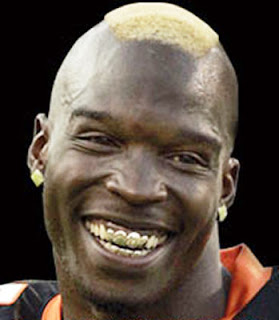 Carson Palmer's wife, Shaelyn, can rest easy. There's no way her husband, the Bengals' quarterback, is going to let Chad Ochocinco, the team's star wide receiver, crash at their Southern California home in July while the two work out together. Three's company? Hardly. Carson said Shaelyn got either a text message or e-mail from a friend, saying Ochocinco planned to stay with the Palmers in the days leading up to training camp. Shaelyn gave birth to twins -- a boy and a girl -- on Jan. 20. "As soon as I walked in the door from work the other day, she just gave me that look," Palmer said. "I'm like, 'Whoa, calm down. It's media stuff. It's Chad being Chad.'"
-- Dayton Daily News


Who can blame Ms. Palmer for this one? I mean seriously Chad Ocho Cinco hanging around teaching the babies endzone celebrations. The first words the toddlers would say would be "Love me some me."
If the Palmers are smart they will keep Mr. Cinco away at least for now. The kids and all you know?