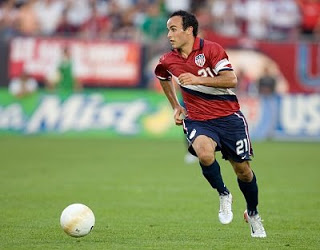 In a nearly completely random act, a good chunk of the American sporting public became soccer fans for 90 minutes today when the United States soccer team took the field again powerhouse Brazil. In what was dubbed by some as the biggest game in U.S. Soccer history, the United States nearly pulled off the great performance in international sports history.

The United States were left for dead just a week ago by all fourteen of their fans, and now a week latter they were at the brink of greatness. Perhaps the best part was for sixty minutes the United States gave Brazil all they could handle rushing out to a 2-0 lead. Impressive would be an

understatement

. In the end, Brazil turned on the gas and proved to have too much fire power for the American squad.

Despite giving up a two goal lead the United Stats soccer program finally took a step in the right direction with their performance today. By holding Brazil to a tight game they proved their win over Spain was not a fluke. The Americans proved to themselves and the rest of the world that they can play with any team.

Now they must step their game up heading into the 2010 World Cup. The rest of the world saw how good the United States can be and that means the United States will not sneak up on anyone else. It can be said that the U.S. surprised Spain, and for sixty minutes Brazil underestimated and were outplayed by the Americans. You can rest assured the United States will not surprise anyone come their next trip to South Africa in 2010.

The Confederation Cup was a great launching point for the United States, but they must step up and take their game to the next level. In the world of sports your only as good as your last performance on the field, and right now the United States are on a one game losing streak. Time it step it up.