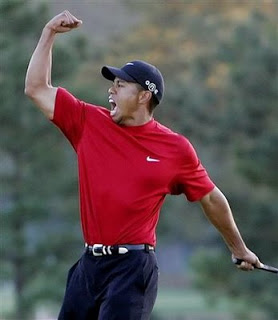 As recentely as Thursday, I was in a conversation with someone who swore up and down that Tiger Woods had lost a step. After his surgery last summer, he lost some of his physical tools and to be honest he was not going to be same. I heard all the quotes and all the stats, 42nd in driving distance, and even worst in driving accuracy. Well to all those haters, out there, I give you Tiger Woods in full form, heading into the U.S. Open.
Tiger Woods began the day four shots back of the lead, and he promptly went to work. The crowds grew and roared as Mr. Woods battled his way into a four way tie for the lead. Then it happened. Back to back birdies on his final two holes.
On the final day, Tiger Woods hit all his fairways during the final round. He only missed five fairways all week. That was the best he has played since gracing us with his destruction of Augusta in the 1998 Masters.
The bottom line is with just a few days before the U.S. Open, Tiger Woods showed the world that he is ready to reclaim his thrown as the greatest golfer on the planet. The knee appeared to be good, and Tiger is roaring, things should be real interesting come the U.S. Open. My advice would be buckle up for the ride, because this could be one special summer.