The 2009 college football season is inching ever closer, and since we are talking about inches, let's take a look at a conference that is defined by them. The Big 10 has always been known for it's "five yards and a cloud of dust" philosophy. While some teams have made efforts to open up their offenses and employ spread attacks, much has not changed in Big 10 country. For one thing, it is still the same old players at the top. The teams you saw battling for a conference championship last season will be back this year. From a BCS Title perspective the Big 10 does not offer a lot, but that does not mean it will not be an exciting conference to watch.
Ohio State Buckeyes: It my only be Terrelle Pryor's second season at Ohio State, but he needs to have a breakout season in 2009. Last year Pryor's game was elevated by having the option to hand the ball to Chris 'Beanie' Wells 20 times a game. This season, Pryor will not have that guaranteed 4 yards a carry coming out of the backfield. However, even with Wells gone, Ohio State will still have a solid running game to rely on. Daniel 'Boom' Herron is looking to make his name in the Big 10 and add his name to the great lineage of Ohio State running backs. At 5'19 193 pounds there is no question that Herron can lay the Boom as his nickname would suggest.
On defense, the Buckeyes are once again stacked. Granted Coach Jim Tressel lost arguably the best defensive playmakers he has ever had over the offseason, but that does not mean the coffers are empty in Columbus. Ohio State will once again prove to be an athletic bunch upfront, especially in their front four. You can expect them to get up field and put pressure on opposing quarterbacks.
Ohio States entire season will be defined by two things. 1) How does Terrelle Pryor progress as a quarterback? As freshmen last season he showed moments of greatness, but he also struggled throwing the ball. If he can keep his down and distance manageable, then he could be poised for a big season. 2) How does Ohio State fair against USC in week 2. For the past several years, Ohio State has been the beast of the Big 10 but still a puppy on the BCS stage. An early season matchup against USC will give us the tale of the tape on the 2009 Buckeyes.
Penn State Nittany Lions: The Nittany Lions bring back Daryll Clark at quarterback and Evan Royster at tailback. The two of them will be the cornerstone of the Penn State attack. Royster is a solid running back. He ave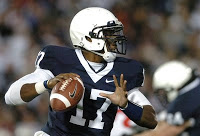 raged 6.5 yards a carry last season. While he is not a game breaker with great speed he does have great vision. Evan Royster will have to have a monster junior season if Penn State wants to make any noise in 2009. Daryll Clark is a very good quarterback, with a strong arm (2,592 yards 19 TD's last season) and decent wheels, (252 yards and 10 TD's). The problem is Clark has no one to toss the ball to. The returning Penn State receiving core combined for a total of 29 amongst the three of them that will not cut it.
Last season Penn State made for a lack of passing production by having a dominating defense. The Nittany Lions have lost a lot of talent on their defensive front. This means their pass rush will not posse the bite it had just twelve months ago. To complicate things further the Penn State secondary is experienced but very shaky. If the defensive line does not come onto its own and apply some sort of consistent pressure onto opposing teams, they could be in for trouble. Teams are going to test the Penn State secondary and if the defensive line cannot apply some pressure the entire defense will be in trouble.
Penn State will make some early noise to get on the national radar. This will be because of their weak out of conference schedule. There is no reason Penn State shouldn't jump out to a 6 or 7-0 schedule to start things off. After that however, it would not be surprising to watch the Nittany Lions to drop off.
Michigan State Spartans: I actually like the 2009 version of the Spartans, and if they can find a quarterback and a solid producing running back I really like Michigan State's chance to make a run at a Big 10 title. Michigan State is returning 14 starters in all, the only glaring holes they are at the signal caller and tailback positions. Due to the difficult of filling both of these positions, I have dropped the Spartans to third in the Big 10. That being said, I do not see why the Michigan State Spartans cannot work their way into a New Year's Day bowl game.
There is one thing Michigan State has going in their favor this season, their season. The Spartans don't have to worry about playing Ohio State this season. This means their big showdown with Penn State at the end of the season could be for a share of the Big 10 title. All the Spartans have to do is remain focused and keep the learning curb to a minimum.
Iowa Hawkey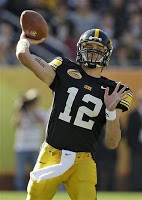 es: In some ways the Iowa Hawkeyes were the pride of the Big 10 last season. They were the only conference team to pick up a win in a bowl game. The key to the Hawkeyes success last season was Shonn Greene the Doak Walker Award winner. He won't be around for the 2009 campaign, but that will not stop the Hawkeyes from being in the mix. Junior quarterback Ricky Stanzi has been called a young Tom Brady (not by this writer). Stanzi is very efficient with the ball, and his leadership will be key to keeping the Hawkeyes on course in the upcoming season. Iowa will attempt to replace the offensive production of Shonn Green with a committee of running backs, which can always lead to mixed results. Again it will be up to Stanzi to stay on the field and really be a game manager to insure that Iowa can put themselves into scoring positions.
I actually like this Iowa team, and think they could be a scrappy bunch in the Big 10. The biggest obstacle the Hawkeyes will face is their overall schedule, which shapes up to be brutal. Games at Wisconsin, at Ohio State and at Michigan State will prove to be too much to overcome.
Michigan Wolverines: Admittedly finishing fifth in Big 10 would be an impressive feat for a team that went 3-9 last seasons and chalked up a lost to Toledo, but I think the Wolverines have what it takes to make the jump. Rich Rodriguez was allowed to use the term rebuilding last season, and he managed to keep the Michigan faithful at bay during a dismal first season. Now in year two Rodriguez needs to get his boys to perform on the field, or he could soon find himself in the unemployment line.
The key to the Rich Rodriguez spread offense is the quarterback. Last season Michigan could not find anyone who could handle the game plan. This year, early enrollee Tate Forcier has shown some promise during the spring training drills, and that's a very good thing. Granted Forcier is no Pat White, but he is a step in the right direction. Overall the Wolverine attack will be improved unit and they may be able to catch a few times by surprise, not mention they are playing a powder puff schedule.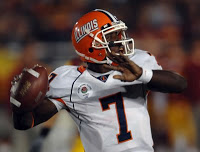 Illinois Fighting Illini: Juice Williams has already written his name all over Illinois football legend and by the end of the season he will leave as the schools all time leading passing leader. The 2009 season needs to be the Juice Williams show if the Fighting Illini wants to experience any level of success. In many ways Illinois proved to be the great underachievers last season. After making the2008 Rose Bowl, Illinois failed to a bowl game in 09 after dropping their last three games. Illinois have a lot of athletes on their roster but their discipline to work hard and do the right things on the field, the theory will prove true in the 2009 season.
Wisconsin Badgers: Another season of disappointment is straight ahead in Madison. The Bret Bielma era got off to a great start in 2006 when he went 12-1, and not much has gone right since then. There are two problems that have afflicted the Badgers over the past few seasons. First Wisconsin has not had a reliable quarterback since 2006. Dustin Sherer has proven to be inconsistent and he makes costly turnovers. The breakdown at quarterback has caused the Badgers offense to grind to a halt. On the defensive side of the ball the Badgers used to have teeth and a force to be reckoned with. However, issues at middle linebacker and at the safety position have caused major breakdowns, and the points have piled on. Everyone remembers the drubbing the Badgers suffered at the hands of Florida State last season in the Champs Sports Bowl.
For 2009 the key for Wisconsin will be finding some toughness and discipline on defense, and any type of consistency out of quarterback Dustin Sherer.
Minnesota Golden Gophers: The highlight of the Minnesota Gophers 2009 season will be moving into a new outdoor stadium. Gopher fans will be happy the Big 10 season wraps early so they don't have to stand outside and watch their team in the freezing Minnesota winter. On paper the Gophers are an improved team from last season, but that will need to translate onto the field and it is doubtful they can make the transition. Making matters worse Minnesota decided to up their out of conference schedule the same year their Big 10 schedule shifted. Welcome Air Force, Cal, Michigan State, and Ohio State. It is going to be a rough season up north.
Northwestern Wildcats: There was a time last season where Northwester 5-0 and one of the best stories in college football. Even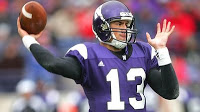 though they were not able to maintain their winning ways once they hit the middle of the Big 10 Schedule the Wildcats still earned a 9 win season and lost a great bowl game against Missouri. The 2009 season could prove to be another banner year for the Wildcats. They lost a lot of skill on the offensive side of the ball and will struggle to score points at time. However, they make up for that inadequacy by returning eight starters on defense. Northwestern will be a stout defensive team that will give opponents hell over the course of the season. Another factor working in the Wildcats favor is the rotating Big 10 schedule that sees Ohio State being rotated out.
Indiana Hoosiers: Despite a low ranking, the Hoosiers are looking to be and should be an improved team in 2009. Ben Chappell is returning as quarterback, and he has the chance to make a little bit of noise, thanks to some solid targets on the outside. In addition Indiana also has a veteran offensive line that should be able to open up some hole for freshmen running back Darius Willis.
The Indiana athletic program has sunk a lot of money into their football program over the offseason. This includes upgrades to the stadium, and building a 24,000 square foot weightlifting facility. All of these upgrades will help the Indiana coaching staff to land some bigger name recruits. The recruits will come in time, what the Hoosiers need to focus on for 2009 is getting to .500. If they want to achieve that goal, Indiana needs to steal two wins out of the follow four road games, Akron, Michigan, Virginia and Northwestern. If they can accomplish that, .500 should be an attainable goal.
Purdue Boilermakers: The 2008 season proved to be the worst season the Boilermakers program have seen since in over a decade. Unfortunately for Purdue fans, their team won't see much of a turnaround during the 2009 season. The Purdue staff is caught in the middle of trying to implement their new schemes while trying to keep things as simple as possible for the players who are currently in the program. Right now Purdue simply does not have the players to be a competitive team in the Big 10 or on the national scene. All in all, Purdue fans just have to hold on, and wait till better times come around in a few seasons.