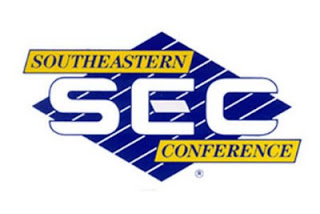 Continuing with a tradition we started last year, Walker-Sports is partnering up with our friend the Gridiron Goddess and her blog to talk a little college football. Today the Goddess of the gridiron and her friends are talking some SEC football.
Hey Football Fiends!
For the 3rd year in a row my Vol pal Byron is here to provide us with an SEC Preview. So without further ado, I'm turning the reigns over to Bryon Earnheart for the day:
2009 SEC Preview
by Byron Earnheart (one Vol fan who has not yet drank the Kiffin Kool-Aid)
Well college football fans, the time of the year we've been looking forward to is drawing nigh. That's right, it's college football time!! I don't know about you all, but it couldn't get here soon enough! When I'm finding myself actually caring about baseball, I know I've been without my football for way too long. Sadly, golf isn't even doing it for me anymore…I just need my fix. I need my Bloody Marys and my "Game Day" and my nachos and my BBQ sandwich and my Miller High Life and my couch and my wife to put up with me lounging on the couch all Saturday. It's time sports fans…it's time.
Since the last SEC preview, I've found myself in a bit of a different situation…I got married. Now, thankfully, she likes football and is somewhat conversational on the subject. She knows enough about the BCS to pull for the teams for which we need pulling. She got as excited as I did last year during that TX Tech/Texas game…not that we had anything to gain…but WHAT A GAME! Every once in awhile, I have to explain to her some rule or why a coach would call a certain play at a certain time in the game, but that's understandable…and, at least, she puts up with me sitting around hollering at the TV.
So, with the marriage as a theme, I'd like to go through the SEC with some quick-hit thoughts.
Something Ole: Well, not quite "something old…", but you get the gist. I'll say more on this later, but if there's a team in the SEC (not named Florida) who has the opportunity to excel this year, it's Ole Miss. That's right…Ole Miss. Great, proven QB…decent coach (my personal opinion of Houston Nutt aside)…favorable schedule…probably a top 15 national ranking. "Wait", you may be saying "what about LSU and Alabama?! Saban is one season away from curing cancer and completely reinventing Western Civilization!" Well, all of that may be true…but he and Miles both have unproven and young QB's (not a good thing in this league usually) AND they have to go to Oxford to play. While Oxford is not as intimidating as Tuscaloosa or Baton Rouge, it's still a road game…and Ole Miss does not have to travel to those aforementioned sights this year. So, in my opinion, the West is Ole Miss' to lose. Will they choke? Probably so at some point along the way…it's almost inevitable in this league. That said…at this stage of the year…it's their division to lose.
Something New: 3 new coaches are in the SEC now…not to mention the 2 "new" coaches last year (Both Nutt and Petrino seemed to come into situations that were not their making…so, they're still new to me). Lane Kiffin, USC's offensive coordinator when they ruled the world, is at UT and is writing checks that I HOPE his butt can cash. Dan Mullen is at Mississippi State now hoping to "spread" some of the special sauce that he and Urban Meyer have cooked up over the years. Gene Chizik joins the SEC at Auburn after he managed to completely stink up Iowa State. This had to be the most bone-headed hire in the history of the SEC (and I am counting Ed Orgeron in this!), which leads me to my next point…
Something Borrowed: Time and Trouble. I get the distinct impression that teams now are just borrowing trouble from some of these hires. Gene Chizik…really? Why do I get the feeling this has got "Ron Zook" written all over it…maybe even worse. In the interest of fairness, I'll throw my beloved Vols here as well. If Kiffin doesn't work out, we're screwed. Bad. And when you think about it, that's two solid programs with a great deal of history that've gotten kicked in the nether regions over a dumb hire. (Gridiron Goddess says: Gee sort of like USC in the 1990s) All of this being said, if they pay off…they'll pay off huge. It's sort of like getting in on a good stock. If it takes off, you're a flippin' genius. If not, then the bank is coming for your home and Little Junior is not going to college.
Now, why do I care about this in a Preview column? Because that's what the fans of these schools with new coaches are watching for. We want to see improvement. Most UT fans (the reasonable ones who a) actually went there and b) don't have "Rocky Top" as car horn or doorbell) aren't expecting a 12-1 season. But, perception is on trial this year for at least 5 teams in the league. We really have no idea what 4-5 teams are going to look like once they step out on the field. The Court of Public Football Opinion, Southeastern District, is cruel. Fans are going to want to see improvement. They'll want to see close games. They'll want to see their teams "in" games that they should not even be in. We all want what Florida has, what Alabama is building, and what LSU is probably losing…but it can't happen to everyone…so, someone is borrowing trouble!
Something Blue: So, I'm going to go ahead and spoil the fun and pick Florida and Ole Miss in Atlanta…and you have no idea how much that crawls under my skin. I hate these two teams passionately. Why? I just do. And what team has a more crystal clear path to the National Championship than Florida? Let's review…their ENTIRE D is coming back; they have Tim Tebow who rivals Chuck Norris in freakish talents, and an easy schedule. Sure, they have LSU in Baton Rouge but, trust me on this, LSU's Def. Coordinator wouldn't know what to do with Florida's offense if he was handed the playbook and given a month to study. Sure, it'll be a tight game for 3 quarters but Chavis will start giving the receivers nice 8 yard cushions. It'll be so nice to watch another defense implode on itself and not have the accompanying arm pains and shortness of breath. So, with all of that…Gators, yet again, it's all you.
So, here, in my predicted order of finish by division, is the SEC.
WEST:
1) Ole Miss: I think I've explained my reasoning above for this. I just like a team that's got a great QB, good depth, able D, good coaching, and a favorable schedule. Now, they may choke. But at this point in the year, I just can't bring myself to say they can't win the West.
2) Alabama: Yes, I know Nick Saban is God's gift to mankind in the South and is the reincarnation of Bear Bryant. But without a proven QB, even the Bear didn't win every game. I like everything about this team but the Ole Miss game and the young QB.
3) Arkansas: Bobby Petrino has proven he can win games, in my opinion, when he's got the QB. Mallet is that type of QB if you watched any of his Michigan games. He's got the skills (to pay the bills…sorry, couldn't help it!). There are some questions on Defense…like are they any good…but, I think the offense could save the team a few times.
4) LSU: I've just seen John Chavis' defenses crumble too many times in the presence of teams that can pass the ball to get too excited. In addition, Jarrett Lee did nothing to impress me. I'm going to go out on a limb here…a REALLY big limb…and say that 2009 could be the beginning of the downward slide of LSU.
5) Mississippi State: As this is my 2nd favorite team in the league, I'm pumped about this year. This is one of those teams that have to show improvement. Perception is the name of the game here. Mullen should bring a great deal of excitement to the team, and, coupled with a punishing RB (pending his DUI situation) and very serviceable D…it might be a decent year…look for them to sneak in the bowl picture.
6) Auburn: Crash and burned, huh Mav? I just can't find anything good to say about this team, I'm sorry. I don't hate the Tigers. I just can't find any reason to put them ahead of anyone in the division. Gene Chizik? Really? That's who you thought could do a better job than Tuberville? Last year, Kodi Burns didn't know whether to scratch his watch or wind his butt. It was embarrassing. So, has it gotten better now that you got the Chizik? The only good thing I can say, seriously, about Auburn, is that acquiring Gus Malzahn will probably save their butts some. But if he doesn't have the tools (and Burns did NOTHING to prove that he has the skills), it won't matter.
EAST:
1) Florida: Ok, save me the energy here…does anyone really argue this? We can argue it if you want to…but you're wrong. This team reminds me of stacking your team on NCAA Football on PlayStation, turning it to JV level, and start getting top 5 recruiting classes each year…it's almost not fun to watch. And, TRUST ME…this praise is not because I like the Gators. I hate them passionately! But they're really freaking good.
2) Tennessee: Now, before this gets attacked, let me just say that UT, UGA, and South Carolina (maybe even Vandy) could make a bid here. Neither of these teams have great QB's, some have better D's, some have more favorable schedules. This really is a testament to how far down the East will be this year. That said, I am going with my biases here. While I trust UT's QB about like I'd trust Simon Cowell to break a smile and say something positive (Dang, my wife's got me watching American Idol…I'm sorry!). Crompton just…I can't even type his name without feeling the bile rise up. However, the offense is supposedly easier to understand (It'd better be…God knows he shorted enough 5 yard passes last year. Confusing stuff, I know!!). The D should be good, and some good RB depth should give us a fighting chance.
3) Georgia: Again, not much difference here in UGA and UT. Good depth, probably a more suspect D…unproven QB. But UGA is one of the best coached teams in the league. They lost a TON of talent though that they can't easily replace coming out of the gate. They have the talent…but it'll take time to develop.
4) South Carolina: Well, it looks like Garcia's finally been paroled and allowed to play football again. I know that was a cheap shot…but given all the crap that Satan…I mean…Spurrier's dealt over the years, payback's a mother! Their D should be fairly solid, however. I'm very impressed with Norwood as a LB. He's probably one of the most underrated players in the league.
5) Vanderbilt: Coming off the bowl win was HUGE for this program. They always have a fairly decent D but lacking in the skill spots on offense. Well, this year, they're bringing back the team leaders in passing and rushing and 2/3 of the leaders in receiving. Look for them to make some splash…possibly another bowl bid. Also, as I said above, don't count them out to be higher than this. Last year, this team gave Mississippi State and Georgia all either team wanted. While I'm not a big believer in "moral losses" since you still lose the game…Vandy's the kind of team with the kind of talent that can slip up on most any team at any time.
6) Kentucky: I sort of miss those few years where Kentucky was good. Now, I just don't see it. I will say that they had a heck of bowl game. They'll win games. They won't get creamed in every game they play. A small running game and an average QB won't move you up this list too much, I'm afraid. Lost some key defensive players, as well.
So, that's the year in preview. I see Ole Miss and Florida going to Nashville with Florida beating them senseless. Revenge is a tough pill to swallow. Then, Florida will probably take on the winner of the Texas/Oklahoma game for the national title. Who will it be? I don't care enough about the Big 12 to even begin to guess that. Both of those teams are good and it'll probably be a great game either way.
I wish everyone's team good luck!