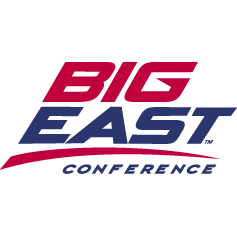 College football is inching ever so closer and here at Walker-Sports we are continuing our college football previews. We've gone through the ACC, which is always near and dear to our hearts and we like hanging on the East Coast so much we figured why not talk some Big East today.
Thanks to the reorganization of the BCS conferences earlier this decade, the Big East is bigger and more exciting than ever. Unfortunately for the teams in the Big East, they are the wild west of football with no dominate power and anyone can win on any given Saturday. Granted the Big East as a football conference will never be as powerful as it is as a basketball conference. But that being said, it is just as exciting.
Pittsburgh Panthers: Dave Wannstedt is entering the fifth year of tenure at Pitt, and he is hoping all of his efforts will pay off this year. During his time in Pittsburgh Wannstedt has done a great job of acquiring talent, but his players have not been able to perform on the field. T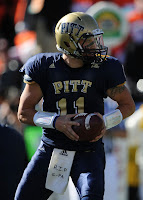 hat being said, last season the Panthers got to nine wins and reached the Sun Bowl. The 2009 Pittsburgh Panthers are looking to build on last year's success.
On offense the Panthers lost LeSean McCoy to the NFL and with that they lost a good chunk of their offensive production. At the quarterback position, Pittsburgh has a couple options with incumbent starter Bill Stull and 2007 start Pat Bostick. Stull will get the nod as the starting quarterback, but Wannstedt will not hesitate to pull the plug on him and give Bostick a chance.
The Pitt Panthers have a light out of conference schedule that will allow the Panthers to rack up some easy wins. Getting to the top of the Big East will be difficult, for Pittsburgh but they should have enough talent on their squad to navigate the choppy waters.
South Florida Bulls: The Bulls are the greatest underachieving team the Big East has ever seen. Once again South Florida is prepared to do battle in the 2009 season with some familiar faces. Matt Grothe is under center at quarterback for his final campaign. Despite having some great stats over the course of his career, Grothe will not see his tenor complete if he fails to bring home a BCS Game win. Grothe will have some help from his defense which is once again anchored by George Selvie who is a senior and a returning All American. All together the South Florida defensive line features 75 combined starts.
Once again South Florida has the horses to be a contender in the Big East and on the national scene. The problem is South Florida always finds a way to shoot themselves in the foot, and collapse coming down the stretch. I find it hard to believe the Bulls will have the mental discipline to stay focus for the whole season and finish what they started.
West Virginia Mountaineers: Bill Stewart nearly stirred his high powered offense into the ditch last season, but tha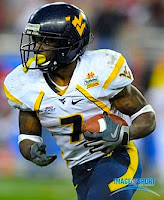 nks to Pat White and Noel Devine the Mountaineers were able to overcome a sluggish start and finish with a 9 win season. This year there is no Pat White, but Stewart will look to open up his offense some more by increasing his teams passing production,
Truth is told West Virginia still has some talented athletes roaming around Morgantown. The key to their season will be getting off to a strong start. With early season games against Liberty, ECU, at Syracuse, Marshall and UConn. This means WVU has the chance to jump out to a 6-1 start depending on a few games against Colorado and Auburn. If West Virginia can keep their heads straight for the opening half of their schedule, they could end up making a push for the Big East Championship.
Cincinnati Bearcats: Last year the Bearcats experienced a breakout season that earned them a Big East Championship and a trip to the Orange Bowl. In 2009, Cincinnati has an outside chance of repeating that feat once again. The Bearcats experienced heavy losses on defense. It was those losses that have caused them to drop so far on our list.
Despite their losses on defense, the Bearcats cannot be counted out of the race for the Big East because of the talent they have on offense. Tony Pike is a seasoned quarterback who has a slew of weapons on the outside. The Bearcats success will be based what Pike and company can get done on offense. It would be in Cincinnati's interest to take on a Big 12 mentality and try to outgun every opponent they face because a defensive battle will not end well for them.
Rutgers Scarlet Knights: The Scarlet Knights are returning 13 starters from last year's squad. That's a unit that won seven straight games coming down the stretch, including a school record third consecutive bowl game. Despite being ranked fifth in the Big East in this poll, Rutgers will still figure to factor into the overall picture. The key will play at the quarterback position. If Rutgers can find consistent play from senior Domenic Natale they could find themselves sniffing for a Big East championship when West Virginia comes to town.
Connecticut Huskies: It's pretty obvious the Huskies lost some serious firepower on offense last se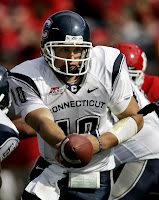 ason, everyone knows that. The interesting part will be how UConn handles the transition to their new offensive scheme in 2009. Like so many other teams across the NCAA the Huskies are looking to run a no huddle spread formation. This means they want to speed up the pace of things and try to open up some more scoring opportunities. When it's all said and done, the Huskies have some talent on their squad. They will most likely win six games and make a bowl game, but it is doubtful they factor into the overall Big East race.
Louisville Cardinals: The arrival of Steve Kragthrope has done anything for the Louisville Cardinals. Since his arrival in 2007, The Cardinals have gone 11-13. This season will be all about Kragthrope and what he can do to transform his stagnant offense. Kragthrope has named himself offensive coordinator this year, and in many ways his reputation and his job are on the line. Last season Louisville went 5-7, chances are they are going to end up around that same mark in 2009. If the Cardinals are lucky they will reach the six win mark.
Syracuse Orange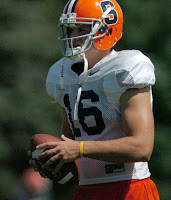 : Doug Marrone has come in to restore some hope to the Syracuse Orange program. Unfortunately for Marrone, the Orange fan base running rapid with aspirations of greatness, many of which exceed the reality of the situation. Much like UConn, and WVU, Syracuse will employ a spread offense. The Orange version of the spread won't like be high power but it could prove to be deadly if the boys are able to grasp the nuances of the scheme early in the season. This is a transition year for Syracuse, but I can assure you thinks will be looking up for them. Marrone will experience some growing pains, but things are on the up and up for the Orange.