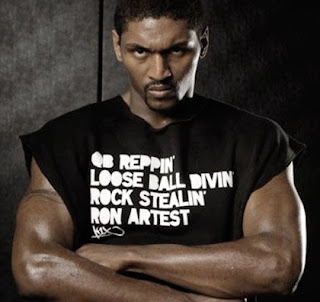 Talk about the rich getting richer, that must be the motto of the NBA off season. Already we have seen Vince Carter go to Orlando, Richard Jefferson to the Spurs and Shaq signed was introduced with the Cleveland Cavaliers today. Not to be outdone, the current NBA Champions, the LA Lakers are hoping to have made a splash into the free agent pool this afternoon. That is if the source of this information can be trusted.
Earlier today, Ron Artest told CBS affiliates that he was ready to sign with the Lakers for an undisclosed amount. Artest spent last year with the Houston Rockets where he was quiet off the court, but he made a big splash on the court, helping the Rockets out of the first round of the NBA Playoffs. For many reasons Artest could be called the reason for Houston's success last season. With Tracy McGrady missing the majority of the season due to injury Artest and Yao teamed up to get the Rockets into the post season. Even after Yao Ming went out with a foot injury, it was Artest who kept the Rockets alive and pushed the Lakers to the brink.
If Artest does go to the Lakers one has to think they are preparing for the exit of Trever Arizza. Seeing that most like him for his defensive play, his services will not be in such high demand with Artest playing lockdown defense on whoever he guards. At the same time Artest also helps toughen up what is still widely regarded a mostly soft Lakers defense.
This has been one busy offseason with big teams making big moves. Who will be next? The Boston Celtics have made a formal offer to Rasheed Wallace, so do not be surprised if you hear about that trade over the weekend.