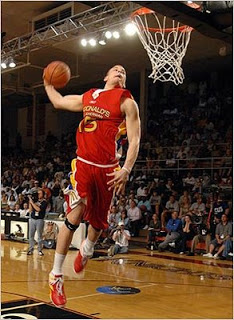 "With the number one pick in the 2009 NBA Draft, the Los Angeles Clippers select; Blake Griffin, forward Oklahoma

Sooners

." Those are words, that the NCAA All American and player of the year Blake Griffin will have to get used to over the next few weeks, and they are words that Griffin may grow to fear.

The Clippers beat the odds on Tuesday night and locked up the rights to the number one pick in the 2009 NBA draft. Barring a

miracle

, they will likely take the best player in the draft Blake Griffin. This will mark the third time in franchise history the Clippers have selected in the number one spot. What have they done with those previous number one picks? Not much, and for that reason Blake Griffin should be afraid, very afraid.

The Los Angeles Clippers First had the number one pick in the NBA Draft in 1988 after going 12-70. The Clippers used the opportunity to draft NCAA Tournament standout Danny Manning. Afterwards, the Clippers promptly improved their record to 17-65 and once again failed to make the post season. LA would receive the second overall pick that year and they drafted Danny Ferry. Somehow, the Danny to Danny connection never amounted to what Clipper fans had hoped for.

The Clippers would once again find themselves at the bottom of the NBA in 1998. This time LA decided to go big with the number one pick, too bad the big man they selected was Michael

Olowokandi

, an epic bust pick out of Pacific. Eventually

Olowokandi

would team up with Lamar Odom to form an unimpressive

front court

. In an odd twist of fate, Odom once again finds himself playing in L.A. for the other team in town, and go figure he has emerged as an All Star.

With the 2009 NBA Draft just around the corner, Blake Griffin is poised to be the next Clipper to be drafted with the number one pick. On the positive side, Griffin's

predecessors

set a very low bar for him to clear. The

other side

of that coin is, Griffin will be a Clipper and the despite having a low bar to clear, the Clippers always manage to underachieve.

As the draft draws nearer, one has to imagine that Griffin cannot be happy with this situation. NBA fans will once again be robbed of what could have been, as they watch another basketball

prodigy

go to waste in La La land. The best we can hope for now is that Blake Griffin resurfaces three years from now somewhere else.