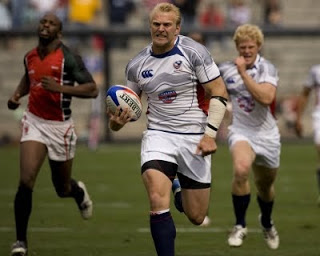 After a month of searching and over 50 applications USA Rugby is ready to announce they have found their new coach for the USA Sevens team. Walker Sports has learned the honor will go to current player Matt Hawkins.
Matt Hawkins is a seasoned veteran of the USA Sevens program and current team captain. Recently he's also served as a coach for San Diego St. and the Old Aztecs rugby club, helping to raise his coaching profile. Hawkins also serves as a high performance coach with the Serevi Rugby Academy.
Matt brings a wealth of sevens knowledge and perhaps more importantly he is familiar with the struggles and adversities that American rugby players face. This is often an overlooked concept but highly important when targeting and developing young players.
The big question that's left to be answered is will Hawkins become a player-coach as Serevi himself did with Fiji, or does this mark the end of his playing days?
Either way the Eagles have found their man, to lead them to the 2016 Olympics.
Addition:
It has been confirmed that Matt Hawkins will be the new coach of the USA Sevens team, with Dave Williams stepping in as a manager. In addition it appears Hawkins will have an advisory committee of Ben Gollings and Serevi.