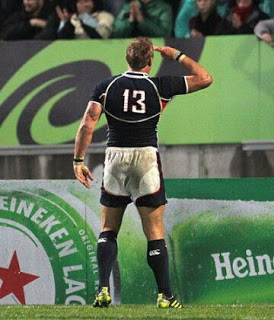 It is with heavy hearts, that Walker Sports has confirmed USA Rugby player Paul Emerick has retired from the game he loves. The announcement became official earlier this morning on Emerick's Facebook page.
The 33 year center/wing has been a standout in the U.S. setup for over a decade, where he featured in three World Cups, 53 total caps for the Eagles, and 17 tours with the U.S. Sevens team. In addition Paul played professional rugby in Northern Ireland, England, and Italy. He is fourth on the all time caps list for the Eagles.
He will leave behind an enduring legacy on the pitch. Known for his fierce playing style, Emerick laid out some of the best hits and hard crash running Eagle fans have ever seen. It is because of that hard nosed style that the Cactus as he's been called became a fan favorite.
His retire is the result of an ankle injury he suffered last November. Although trying to rehab and get back out on the pitch was his goal, unfortunately the body did not agree with the mind.
With his skill and knowledge, one can hope that Emerick will find a way to stay involved in the U.S. set up. He is too talented a guy to simply be lost to the program. Best of luck Paul.