The NFL Combine is set to kick off in Indianapolis next week, and with it young men's draft stocks will rise and fall faster than Wall Street. Before the Combine gets underway, we put together one more mock draft for the first round.
St. Louis Rams Ndamukon Suh DT:
I'll avoid the Johnny Cash pun, bottom line is Suh can play. He's a sure fire bet as the number 1 pick and he will be an anchor for a long time.
Detroit Lions
Gera
ld McCoy DT:
McCoy is not far Suh in terms of talent. He may not have all the tools right now, but he has what it takes to gain those skills.
Tampa Bay Bucs Jason Pierre-Paul DE:
Probably the most dynamic pass rusher in the draft. The Bucs need someone who can step in an become a difference maker up front.
Pierre-Paul can do this.
Washington Redskins Jimmy Clausen QB:
Jason Campbell reported earlier this week that the plan was to keep him in D.C. for a bit longer. That does not mean that the Redskins will not bring in a new quarterback and begin the grooming process.
Kansas City Trent Williams OT:
Once again the Chiefs need to bolster their offensive line. The Brandon Albert experiment is ongoing. Most likely Williams can step in and play right tackle.
Seattle Seahawks Eric Berry:
This is Pete Carroll's first draft with the Seahawks, and he can do pretty much anything he wants with this pick. While a quarterback is needed, Carroll appreciates what a good defense can do for a team. This is why he will take the best available pic in Eric Berry.
Cleaveland Browns Joe Haden CB:
Haden may have the best all around talent of any corner coming out this year. Sure Cleveland has a pair of young corners in house already, but talent like Joe Haden is hard to pass up.
Oakland Raiders Anthony Davis OT:
Davis is extremely athletic and should have the best footwork of all the linemen available. He is a good fit to fill the horrible Oakland offensive line.
Buffalo Bills Sam Bradford QB:
This is a bit of a stretch but, it's entirely possible. The Bills need a quarterback, they also need linemen. It's possible the Bills go linemen and pick a QB in the second round, but Bradford is too good to pass on.
Jacksonville Jaguars Rolando McClain LB:
With Tebow out of the picture, the man who terrorized The Chosen one in the SEC Championship game is once again available. Rolando McClain is considered the smartest defensive player Nick Saban has ever coached. That is a huge compliment considering the complexity of his defenses. There is no doubt McClain will be able to slot right into the Jacksonville defense and make and impact.
Denver Broncos Dez Brya
nt WR:
Brandon Marshall will not be a Bronco next season. It's a miracle he lasted in Denver as long as he did this year. Dez Bryant was screwed out of his last season at Oklahoma State. He hasn't played in almost a year and he is ready to show why he was one of the best wide outs in 2008.
Miami Dolphins Sergio Kindle OLB:
With Joey Porter's future still sketchy at best, and Jason Taylor moving ever closer to Hollywood, it's time for the Dolphins to bring in some a dynamic edge pass rusher.
San Francisc
o 49'ers Eric Berry S:
Mike Singletary likes defense, Eric Berry gives the 9'ers one of the best DB's in the game. The associations with Ronnie Lott will be made on day one.
Seattle Seahawks: C.J. Spiller RB:
It's been three seasons since the Seahawks have had a premier running back. Spiller gives Pete Carroll an explosive back and a kick returner. Think of a stockier Reggie Bush.
New York Giants Brian Price DT:
What the Giants really need is a middle linebacker but there is not one available at this position. I could the Giants trying to move this pick or bundle it. Who knows exactly.
Tennessee Titians Brian Price DT:
This is the type of player Jeff Fisher loves. He has all the ability that Haynesworth once had with none of the excess baggage.
San Francisco 49'ers Mike Iupati OT:
This guys stock just keeps climbing. With a decent showing at the Combine you can expect him to jump into the top 10.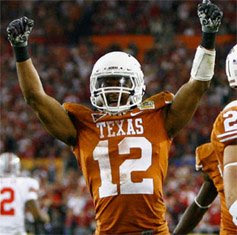 Pittsburgh Steelers Earl Thomas CB/S:
The Pittsburgh Steelers have a glaring hole in their secondary. Sure Troy can still play, but when he went down last season with a knee injury the Pittsburgh defense never recovered. Earl Thomas is athletic enough to play corner and step in at safety should the need arise.
Atlanta Falcons Navorro Bowman LB:
He has the potential to be an instant play maker with his athleticism. He can fill the void at weak side linebacker.
Houston Texans Taylor Mays S:
It's fairly obvious the Texans need to sure up their defense. They failed to make stops when they needed them most. Mays has all the physical tools to be a great safety, its just a mater of can he bring it out?
Cincinnati Bengals Jermaine Gresham TE:
Ignore the fact that Gresham was injured all of last season. The kid can play. Add him into the mix of Ocho Cinco and possibly Brandon Marshall and you have a passing attack that will scare even the strongest secondary.
New England Patriots Brandon Graham OLB:
His pass rushing skills are exceptional. However, he is not a conventional 3-4 scheme linebacker. The Patriots have a history of finding ways to fit guys in, Graham should be no exception.
Green Bay Packers Bruce Campbell OT:
Anyone who saw Jared Allen reek havoc in the Packers backfield last season knows Green Bay needs help on the offensive line. It will not take long before Charles Brown is replacing the veteran Chad Clifton.
Philadelphia Eagles Carlos Dunlap DE:
The Florida Gator is one of the great pass rushers available. He has had some off the field issues, but Andy Reid has proven he can handle the rough cases.
Baltimore Ravens Arrelious Benn WR:
The Ravens are always in need of receivers. Benn is athletic and can make a variety of catches. he would be a great target for Joe Flacco
Arizona Cardinals Colt McCoy QB:
This may be the stretch of the draft. Ideally the Cardinals would pick Sam Bra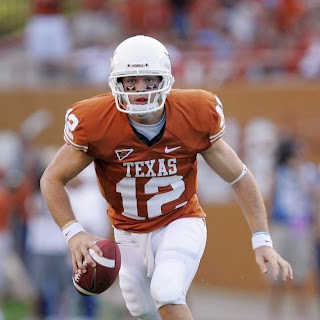 dford if he is not available there is a chance they would go with McCoy. This all depends on how his shoulder heals.
Dallas Cowboys Donovan Warren CB
: Lockdown CB out of Michigan. The Cowboys secondary was improved last season, but it could still use a bump.
San Diego Chargers Terrence Cody DT:
This is a mountain of a man at 375 pounds. If the Chargers stick him in the middle of their line, it will take a stick of dynamite to blast him out of there.
New York Jets Perrish Cox CB:
Stick anyone on the other side of Revis and they will get a chance to make plays. A lot of young players would shy away from that challenge, but Perrish will not.
Minnesota Vikings Jared Odrick DT:
It looks like Brett Favre may not be the only old man leaving Minnesota. Defensive tackle Pat Williams is talking retirement as well. Restocking with Jared Odrick insures they Vikings will not miss much.
New Orleans Saints Ricky Sapp OLB:
Sapp would be a welcome addition to play along side Jonathon Vilma.
Indianapolis Colts Jerry Hughs DE:
Undersized and quick. It's the defensive player the Colts love.