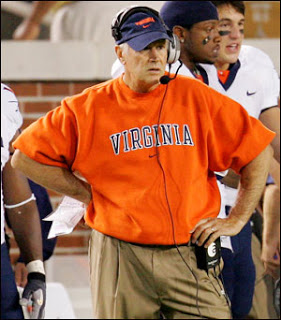 The 2009 football season has been a disaster for the Virginia Cavaliers. For that matter the majority of the Al Groh era in Charlottesville has been a train wreck. As a result it is unlikely that Al Groh will retain his job during the off season.
That's right, Al Groh will be fired.
Now assuming that Groh is fired, Virginia needs a plan to rebuild. The obvious question then becomes, who will replace Al Groh? Let's take a look at the short list of obvious candidates
Mike London:
London may be the most obvious choice to replace Al Groh. Judging from all indications he may also be the leading candidate to get the head coaching job going into the off season. Mike London spent six season at UVA where he became the defensive coordinator and molded five NFL draft picks. He's a proven winner after taking Richmond to a FCB Championship in his first season as head coach. London is generally an unknown. He also has not be tested on his recruiting capabilities.
Brian Kelly:
The Cincinnati Bearcats head coach is an obvious choice. However, he may have coached his way right out of this competition. Kelly's services will be in high demand this offseason, and UVA may shy away from the bidding competition. The guy is a winner. He built a program out of UC when no one thought it was possible. He knows how to recruit and everyone loves him. He's too good and too qualified to be UVA's head coach. UVA cannot compete with the likes of Notre Dame. They will get outbid for Brian Kelly's services.
Ron Prince:
He is back for his second tour of duty on the UVA coaching staff. While out at Kansas State Prince developed Josh Freeman and he kept that program afloat. Ron Prince is a good recruiter and a pretty good head coach. He was fired prematurely at Kansas State. Judging from his development of Josh Freeman and the one time success of the Virginia offense, Prince can
Jim Grobe:
This name may be the most surprising of all of them. Jim Grobe built the Wake Forest football program from scratch. At it's peak, Wake Forest reach a BCS game, which is a feat that no one ever thought would be possible. Grobe's success at Wake Forest is also the reason he would not leave Winston Salem. Jim Grobe can go .500 for the next 8 years and he will still be welcomed in with open arms on the Wake Forest campus. For that reason he has no desire to leave Winston Salem.
Danny Rocco:
You probably don't know who Danny Rocco is, but you should. He is the head coach of the Liberty Flames in Lynchburg Virginia. In three years Rocco has taken a 1-10 program and turned them into a contender. He is a brash young coach who runs a dynamic offense and he is not afraid to mix things up. He has some past experience on the UVA staff. There is no doubt that Danny Rocco is on his way up the coaching ladder, but making this jump right away may be too much too soon.
The UVA football program will be at a crossroads this off season. There is no way Al Groh retains his job after this season. If UVA wants to put their program back on track they will need to hire a great head coach.