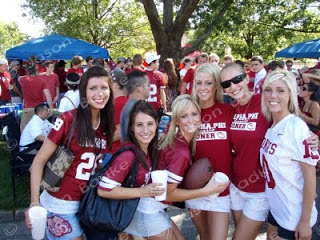 I cannot believe we are through week 13 of the college football season, but then again judging by some of my recent picks in the College Football Pick'em pool, I should not be too surprised. Once, I was the hottest thing going, and now I seem to have fallen on hard times. See my results from this week's edition of Walker Sports College Football Pick'em



Oklahoma 27 def. Oklahoma State 0:

It's amazing that Oklahoma State manages to fail completely when put on a big stage. No matter what this team attempts to do, they seem to choke on the big stage. The 10 point spread was nothing for Bob Stoops and company. They rolled over the Oklahoma State Cowboys with ease. Covering the spread was easy, and despite it being a blowout the Sooners still managed to avoid the over. Damn you Bob Stoops.

BYU 26 def. Utah 23: Well nothing went well for me with this pick. BYU was a 7.5 point underdog and they come out and win outright. Great job by the Cougars. Congratulations to all of them. Too bad the BYU win doesn't help my gambling debts. I wonder if Obama can make a stimulus package to save me?



South Carolina 34 vs. Clemson 17:

Finally, some redemption this week. The South Carolina Gamecocks made this weekend bearable. Clemson entered the game on a hot streak and they had a Heisman hopeful in their backfield. That's why the Tigers were favored by 3 points. However, the Ole Ball Coach, Steve Spurrier had one last ace up his sleeve. Big rivalry game and the Gamecocks come through pull the upset, win outright and save my ass for the weekend. Thank you Steve Spurrier, that's something I never thought I'd say.