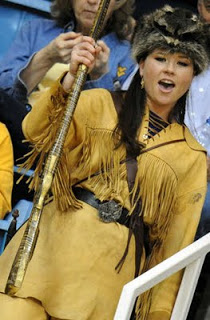 1)Florida Gators:
The journey is almost complete, just beat Bama.
2)Texas Longhorns:
Colt McCoy and the Longhorns put on a special show on Thursday night.
3)Boise State Broncos:
It looks like another trip to the Fiesta Bowl for the Broncos. To keep them out of the BCS would be a travesty.
4)Alabama Crimson Tide:
Yeah, they are ranked a tad low in this poll but that's because they have a date with Florida and a win changes everything.
5)TCU Horn Frogs:
The Horn Frogs may really be the best team in the country. Too bad they will most likely play the loser of the SEC Championship game.
6)Cincinnati Bearcats:
Pitt losing last week may be the worse thing for the Bearcats. I just don't like Brian Kelly's defense. Good teams don't give up 30+ points on the regular.
7)
Ohio State Buckeyes:
The Buckeyes may actually have a shot at wining a Bowl game this year.
8)
Oregon Ducks:
Man what an entertaining team to watch this season.
9)Penn State:
Is Joe Pa going to back door his way into a BCS game? That would be crazy.
10)Iowa Hawkeyes:
Seriously, who let these guys climb back into the top 10? I want answers.
11)BYU Cougars:
Great win in the Holy War this past week. The Mountain West is legit.
12)Houston Cougars:
I think that Houston gets this ranking simply because they are a fun team to watch. Talk about offensive firepower.
13)Virginia Tech Hokies:
Interesting how they are the highest ranked team in the ACC, and not even playing for the conference title. Also great job of ending the Al Groh error at UVA.
14)Oregon State Beavers:
Where did these guys come from?
15)Pitt Panthers:
Despite dropping a close one in the Backyard Brawl last weekend, Pitt can climb back into the spotlight next weekend by knocking off Cincinnati.
16)Georgia Tech Yellow Jackets:
They played a great game against Georgia except the horrible play calling at the end. Option teams should not pass 4 times in a row in the fourth quarter.
17)
Clemson Tigers:
It's November that means Clemson goes into hiding.
18)USC Trojans:
No class last week in the final moments of the UCLA game. I'll admit it, I hate the Trojans.
20)LSU Tigers:
At least Les Miles didn't blow the clock management this week.
21)Cal Bears:
They are kind of like the little engine that could, but in the end, this season will be considered a lost.
22)Nebraska Cornhuskers:
Solid year from the Cornhuskers and upsetting Texas in the Big 12 Championship will shoot this team up the rankings for sure.
23)Utah Utes:
Tough lost to BYU, but remaining ranked all season proves that Utah is becoming a legitimate program. Now they need to schedule higher profile out of conference games.
24)West Virginia Moutaineers
: Welcome to the top 25 better late than never.
25)Oklahoma State Cowboys:
What happened to this team? Maybe my man Mike Gundy is not who I thought he was.