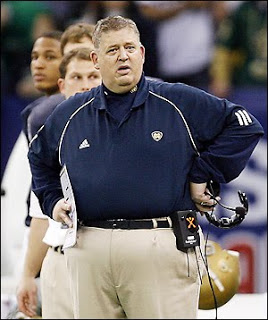 According to the
New York Daily News
,
Notre Dame has decided to fire head coach Charlie Weis. School athletic director
Jack Swarbrick
has decided to make a change after Weis finished the season with a 6-6 record and four straight losses to
Navy
, Pitt,
Connecticut
and
Stanford
.
In all honesty this move comes as no surprise to anyone. Much like Virginia's Al Groh Weis has been the walking dead for the past four month. Weis was at Notre Dame for the past five years and compiled a 35-27 record.
In other Notre Dame news the players are holding a private team only meeting to decide if they will play in a bowl game this season. Despite a horrible 6-6 record the Domers are bowl eligible.