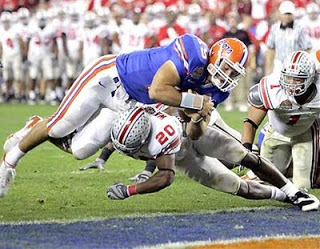 Another week is in the books, and once again the the top of the Walker Sports College Football Poll remains in tack, but things are getting tight, and with the conference championships just around the corner you can be sure there will be some shake ups. Nonetheless, let's take a look at how the top 25 shakes out this week.
1)Florida Gators:
The Gators are trucking along. It's always nice when you beat up FIU, this weekend they have a Florida State team that is on it's last weeks. Just don't screw up.


2)Texas Longhorns:
Colt McCoy will be your Heisman winner, and what better way to cap off a memorable senior season than making a trip to the BCS Championship.
3)Boise State Broncos:
Still strong still good. Get this team in the Mountain West Conference and make the Mountain West a BCS conference.
4)Alabama Crimson Tide:
The entire season hinges on the SEC Championship game in two weeks. Will the Tide fall in consecutiveyears?
5)TCU Horn Frogs:
TCU needs Boise and Boise needs TCU. Make the Mountain West a power conference.
6)Cincinnati Bearcats:
Misson Almost accomplished,the Bearcats have to remain focused and finish what they started.
7)
Georgia Tech Yellow Jackets
:
They earned a date with Clemson in the ACC Championship, time to do work.
8)
Pitt Panthers
:
It's going to be a great game when the Panthers tangle with the Bearcats.
9)Ohio State Buckeyes:
For the eighth time in nine years, the Buvckeyes knocked off Michigan. Can't wait to watch any PAC 10 team destroy them in the Rose Bowl.
10)Oregon Ducks:
Another win keeps them in the drivers seat for the PAC 10.
11)Penn State:
It was a solid year for Joe Pa, in the end they just fell a little short.
12)Oklahoma State Cowboys:
Despite early setbacks, it was a good season. Now knock off the Sooners and finish up.
13)Iowa Hawkeyes:
I have to say the Hawkeyes were a surprise for me this season, but they were incredibly boring to watch.
14)Houston Cougars:
Fun to watch, but you have to play some defense if you want to be a contender.
15)BYU Cougars:
Imagine how entertaining it would be to watch these guys Boise State and TCU in the same conference.
16)Clemson Tigers:
It was an ugly season, but the Tigers are a game away from reaching a BCS game.
17)
Virginia Tech Hokies:
Destroy Virginia and put an end to the Al Groh era in Charlottesville.
18)Oregon Sate:
Still a factor in the PAC 10. Beat Oregon and pay them back for what happened last season.
20)Utah Utes:
Another team looking for some company in the Mountain West, don't you see how good this conference could be?
21)USC Trojans:
Well at least we won't have to watch them in the Rose Bowl.
22)Mississippi Rebels:
Great great win for the Rebels. Les Miles has to kicking himself in the ass.
23)Cal Bears:
A lost season is suddenly put back back in place with a win over Stanford.
24)Nebraska Cornhuskers:
Who would have thought the Cornhuskers could earn their way into the Big 12 Championship game? An upset victory over Texas would go down as one of the all time greats.
25)LSU Tigers:
Les Miles just had a $10 million clock management mistake. That has to hurt.