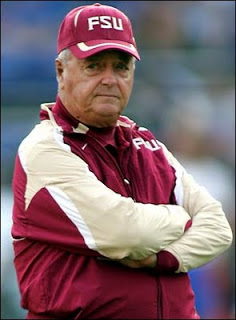 The regular season is barely over, there are some major coaching changes already shaping the college football landscape. The latest bit of news comes out of Florida State, where it appears that longtime coach Bobby Bowden is ready to step down from his position of head coach.
According to ESPN.com the announcement will be made on Tuesday. Bowden and coach in waiting Jimbo Fisher met with school officials earlier today to discuss the future of the legendary coach and the storied program. It was thought Bowden would be asked to accept a reduced roll as head coach in exchange for being allowed to remain on staff for another year.
Bowden leaves college football after 34 years of service. He is the second winningest coach of all time with 388 wins. While this is the right move for the Florida State Seminoles, it is a sad day for college football because it is losing one of the all time great coaches, and Bobby Bowden will be missed by all of us here at Walker Sports.