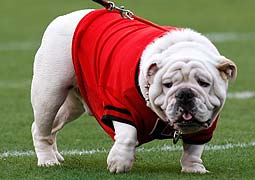 In a bit of sad news coming from between the hedges in Georgia; Uga VII, the University of Georgia's beloved mascot has passed away due to heart-related issues according to his owners.
Uga VII made his first start as the Georgia mascot just two seasons ago when he replaced Uga VI. Loran's Best as he was always known, was said to have been a good dog who was oblivious to the crowd noise. He could be seen roaming the sidelines in his red Georgia sweater and watching his favorite team.
According to Georgia's athletic department, there will be no dog at the game on Saturday, and a wreth will be placed on Uga VII's dog house in remembrance.
"He was 10-3 last year which is not bad for a freshman," said Seiler. "Uga VII was not as active or mischievous as his father but more distinguished. He realized his role when he put his shirt on. He was well-behaved and always appreciated the significance of his role."
-Sonny Seiler Uga VII's owner.
Uga VII will be missed, as he was taken fro us far too soon.
Digg!" width="100" height="20">