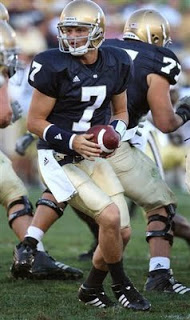 This has been a horrible season for the Notre Dame Fighting Irish. Oddly enough Irish quarterback Jimmy Clausen has actually put together a solid season. However, 6-5 is still unacceptable for all Notre Dame fans, and they are fighting mad about it.
According to multiple reports and witnesses, Notre Dame quarterback Jimmy Clausen was punched in the face by a fan on Saturday night. According to reports from the
Chicago Tribune
Clausen was left with a black eye from the incident.
Employees from CJ's Pub confirm that Jimmy Clausen was at the bar with friends and family, and after closing he was approached and attacked by a fan. South Bend police say they have no reports filed under Clausen's name.
Seriously?! Come on Notre Dame fans, be classier than that. Yes this season has been a waste, yes your coach is going to be fired, yes you have underachieved yet again. But punching your starting qb (and best player) in the face after he loses a game in double OT? Way to stay classy Domer nation.
No wonder Notre Dame football is in the tank, the fans don't deserve a quality program with fans like that.