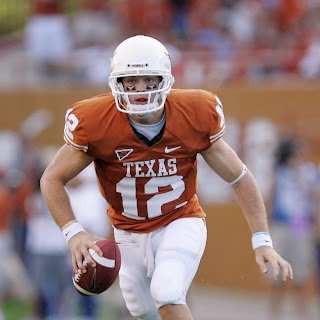 As the season progresses, we are seeing plenty of movement within the top 25. It appears the NFL is not the only place where pariety reigns. Contenders falling off means lots of movement, check out where your favorite team landed in this week's edition of the Walker-Sports Top 25.
1)Florida Gators:
The Gators finally looked like the real Florida Gators. Guess Mark Richt brings out the best in Urban Myers crew.


2)Texas Longhorns:
Focus will be the key for the Longhorns.
3)Boise State Broncos:
Leading the way for a slew of underrated teams this year.
4)Alabama Crimson Tide:
I can't wait to see Bama and Florida go head to head. One last mountain to climb against LSU.
5)TCU Horn Frogs:
The Best team no one is talking about.
6)Cincinnati Bearcats:
These guys are good, too bad no one will watch them kill some ACC numb team in the Orange Bowl.
7)LSU Tigers:
Get by Bama, and the SEC could be in for a loop.
8)Iowa Hawkeyes:
I just don't like this team.
9)Iowa Hawkeyes:
Man talk about getting by on the skin of your teeth. I'm not ready to jump on the Iowa bandwagon just yet, but I will hold on to their bumper for a while.

10)Penn State Nitnay Lions:
Not crazy about them, but they keep trucking along.

11)Georgia Tech Yellow Jackets:
That triple option is giving people fits, now can they survive the mediocre ACC a date with UC will be their reward.

12)Ohio State Buckeyes:
Blowing out the University of Virginia is like beating a high school team.
13)Houston Cougars:
Just imagine what could have been had it not been for UTEP...
14)USC Trojans:
Wow what happened to them on Saturday?
15)Houston Cougars:
With Boise and TCU going mainstream it looks like the Cougars are the new mid-major story.

16)Pitt Panthers:
Didn't se ethis team makign a run for it. Dave Wonstache finally putting it together.

17)
Utah Utes:
Good but not good enough

18):South Florida Bulls:
Big win on Friday and making some rumblings.

19)Oklahoma State Cowboys:
Horrible lost on Saturday. Another wasted season for the Cowboys. Even beating Oklahoma won't set this one straight.
20)South Carolina Gamecocks:
21)Virginia Tech Hokies:
Talk about blowing a season. Rough days down in Blacksburg.
22)Oklahoma Sooners:
23)Kansas Jayhawks:
24)Arizona Wildcats:
25)Mississippi Rebels: